If you find any problems or have any critiques they would be greatly appreciated. Just use the E-Mail link at the bottom of the page.
If you like what you see please tell your friends.
I started Lanes Eggs about 19 years ago after seeing egg art at a specialty show. I was so fascinated with it that I had to try it myself!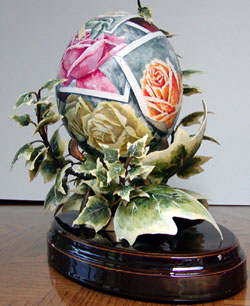 Since then, I have designed many unique pieces of egg art and even had the privilege of painting the White House Easter Breakfast table decorations one year. Another year, I was proud to be chosen to craft the Easter Egg from California at the White House.
The Ostrich egg at the left was designed by me several years ago and features hand painting extending to the Ivy leaves that are made of cut Rhea and goose egg shells. It won best of show at the Westlake Egg Show.
My business is unique in that I sell cut eggshells for other artists to craft. The tool I use is a high-speed dental drill just like you see at your dentist (complete with the horrible whine!). I have many original designs including some complete with hinged doors.
Needing a simple way to display these eggs, I sell acrylic stands and clear show boxes that can be decorated to match the egg too. Please feel free to browse through my site catalog for both eggs and stands that you can decorate and have a completely original design for yourself or the perfect gift!
I have created an ETSY shop that sells many items in this web site plus one of a kind decorated eggs. Please stop by and visit at ETSY.com the shop name is laneseggs or click here.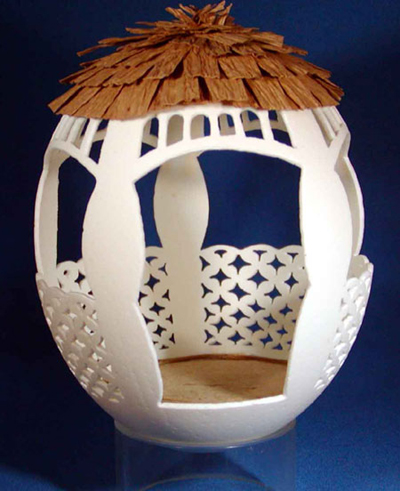 New Gazebo Kit
This is a 1/12 scale model of a doll house gazebo for your miniature garden scene. The Gazebo is made from an Ostrich eggshell. For more information click here.
New
New
New
New
New
New
You have your egg all decorated, found and gussied up a stand for it and the final finishing touch is a base to set it all on.
These bases take the place of the Corian bases that you see so many of the finished eggs sitting on. The FDA has outlawed the cutting of Corian and those bases are no longer available. Any that you have are in no way dangerous, you just can't run them through a power saw in this country anymore.
And these bases can be painted, I would recommend a matte sealer spritz first so the paint will stick. Pastels or chalks would then stick. Reseal after chalking.
See then in the Stands and Containers section.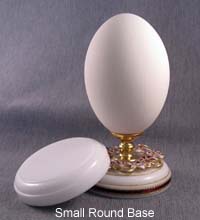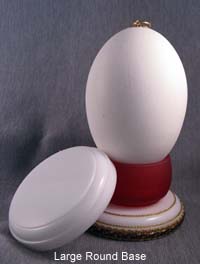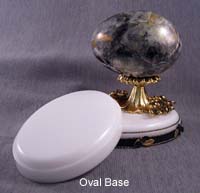 Top of page