I can ship anywhere.
For International orders please contact me via E-mail for exact shipping charges based on your requested shipping method.
Acorns Kit - $18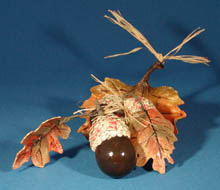 This is a perfect fall arrangement. You will receive all the parts to arrange three acorns with two goose egg leaves onto a resin oak leaf. I will paint the acorn and finish it; you will cover the acorn cap. I will cut everything paint the leaves and you will finish it. All you need is scissors and glue to finish. This is really a very easy beginner kit and please contact me if you want to teach it to your students to get them really interested in egging. It is both easy but still very pretty for a fall decoration.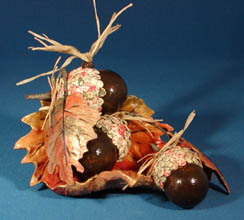 Flower Basket Kit - $20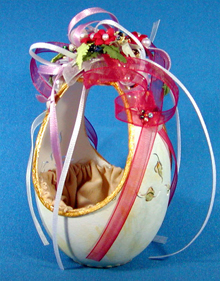 This is a cut goose egg kit for those who don't cut eggs. It would be a lovely housewarming gift especially to put a small trinket inside to personalize it. The basket measures about 4" high and already has a flat bottom so you won't have to find a stand for it. I will cut the egg, put in the bottom and paint the cut part on the sides of the handles.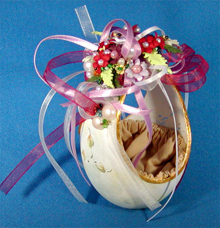 Kit includes: cut egg, fabric to line basket, punched flowers and leaves, ribbon and pearls/beads. You will need glue that dries clear, tweezers, toothpicks, needle and thread to hem lining, scissors and a ball stylus to shape flowers and leaves (a knitting needle or dry ballpoint pen works too). There will be written instructions and pictures.
Ostrich Egg Gazebo Kit - $60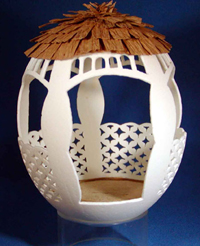 This summer gazebo is precut for you from an ostrich shell. The average size for an ostrich shell is 5-6 "tall. I will clean the shell, cut it and ship it without any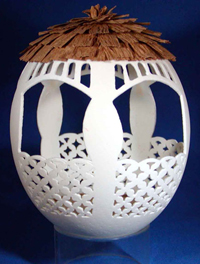 painting. That way you can do it natural or wood tones or circus colors. I will include paper to make your own shingle roofing and heavy card stock for a floor. You will, of course, get instructions and hints to finish your gazebo. The stand is not included. The floor space is big enough for 1/12th scale miniature furniture or plants.
Washi Egg Kit - $12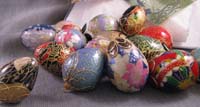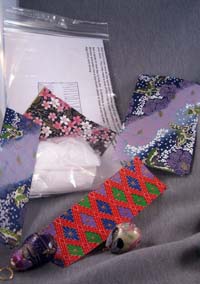 Have you ever seen a Washi paper covered egg? They are very detailed, colorful, shiny and so easy to make. You can make them from any empty eggshell, I am including two empty bobwhite quail eggshells. The smaller size looks so good with the detail of the Washi paper patterns. You will get written instructions, the two eggshells, washi paper to fit and a gold hanger finding for your creation once you are done. I will pick out two different papers for you.

You will need a small pair of scissors to cut the paper, Tacky glue to put it on the eggshell and glue on your hanger and a small can of Minwax polyurethane finish or a spray can of Krylon finish to make it shiny and strong.

Honest....this is easy. You will find it addictive though and before long you will have all your Christmas presents done. And when you get the process down you will be able to use any gift wrapping paper to make a bow decoration for the holidays.

The finished samples are just to give you ideas, as you can see I did not stop at covering the eggs. Beads, crystal stones, cording, lace glitter and so many other craft supplies you already have can be added to one of these eggs to really take it over the top. But my samples are not part of this kit and not for sale.
Click on link to bring up instructions then use your browser print options to print.
Birdhouse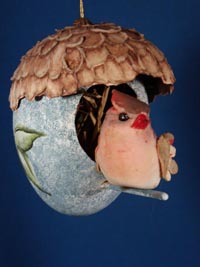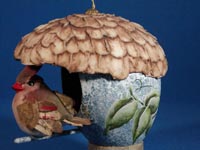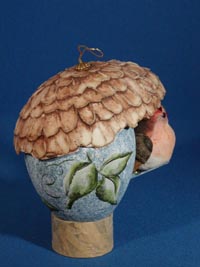 Top of Page